Call for Project Proposals
NewGen IEDC is a program launched by National Science and Technology Entrepreneurship Development Board (NSTEDB), Department of Science & Technology (DST), Government of India and is implemented by Entrepreneurship Development Institute of India (EDII), Ahmedabad, Gujarat.
NewGen IEDC aims to inculcate the spirit of innovation and entrepreneurship amongst the young Science and Technology students, encourage and support start-up creation through guidance, mentorship & support.
The presence of NewGen IEDC at Chitkara University will create a vibrant entrepreneurial culture amongst the students of Chitkara University. Few amongst the "Job-Seekers" would be converted to "Job-Generators" through the entrepreneurial route.
If you are a student/research scholar of Chitkara University and you have highly innovative business idea that has good commercial potential then you can apply for funding from Chitkara University NewGen IEDC.
You can receive funding of upto INR 250,000 for your project.
Quick Video Tour Chitkara University NewGen IEDC.
Functions of Chitkara University NewGen IEDC
To motivate, support and mentor students for identification, development and commercialization of their innovative ideas
To initiate targeted number of innovative student projects each year for new product development
To organize Business Plan Competitions/Innovation Camps/ Hackathons with active involvement of industry and alumni
To guide and assist prospective entrepreneurs on various aspects such as preparing project reports, obtaining project approvals, loans and facilities from agencies of support system, technologies information, etc.
To arrange interaction with entrepreneurs, bankers, professionals, potential customers and create a mentorship scheme for student innovators
To facilitate creation of entrepreneur's club / E-Cells in the college to foster culture of entrepreneurship amongst students
Advisory Board Members
Head of the Host Institute:
Dr. Madhu Chitkara
Member Secretary, NewGen IEDC Project, NSTEDB, DST
Dr. Naveen Vasishta
Project Director & Co-Member Secretary-NewGen IEDC, EDII, Ahmedabad
Mr. S B Sareen
Two senior faculty members from Host Institution preferably with
Relevant entrepreneurial / industry experience
Dr. Gurjinder Singh
Dr. Prateek Srivastava
Representative of a nearby Technology Business Incubator:
Mr. Sumeer Walia
Dr. Adarsh Aggarwal
Representative of SIDBI / Local Bank:
Manager, UCO Bank, Jansla
CA Rajat Bhatia
Representative from Local Industry Association
Mr. Vishal Khanna, Senior Assistant Director, FICCI
Two Alumni Entrepreneurs from the Host Institution:
Mr. Amit Dogra, Orion eSolutions Pvt. Ltd.
Mr. Shivansh Sethi, Co-founder Aiotize
Chief Coordinator:
Dr. Archana Mantri
Coordinator and Convener
Mr. Sagar Juneja
Technical Advisory Committee (TAC)
Dr. Archana Mantri




Vice Chancellor
Chitkara University, Punjab
Chief Coordinator (IEDC)

Dr. Bonny Banerjee




The University of Memphis, USA
AI, Machine Learning and Embedded Systems

Mr. Sumeer Walia




Director, CEED
Chitkara University, Punjab
Business and Start-up Expert

Dr. I S Sandhu




Professor & Dean
Chitkara University, Punjab
Nano-material and Physics

Dr. Meenu Khurana




Dean, Computer Sciences
Chitkara University, Punjab
Software Expert

Dr. Sachin Ahuja




Associate Director, CURIN
Chitkara University, Punjab
Software Expert

Dr. Nitin Saluja




Associate Director, CURIN
Chitkara University, Punjab
Electronics & product design Expert

Dr. Vijay Kumar Jadon




Chitkara University, Punjab
Mechatronix Expert

Mr. Deepak Nair




Visiting Faculty at Mechatronix,
Automation and Product Design Expert

Dr. K.R. Ramkumar




Associate Professor
Chitkara University, Punjab
Mobile Networks, Big Data, IoT

Dr. Adarsh Agrawal




Professor, CEED
Business and Start – up Expert

Mr. Gaurav Goyal




Chitkara University, Punjab
Software and Embedded Systems

Mr. Varinder Singh




Project Manager, CURIN
Chitkara University, Punjab
Mobility and Vehicle design Expert

Mr. Chanpreet Singh




Project Manager, NewGen, IEDC
Chitkara University, Punjab
Mechanical and Tool room expert

Mr. Gurpreet Singh




Chitkara University, Punjab
Mechatronics Expert

Amit Kumar




Assistant Professor (ECE)
Chitkara University, Punjab
Expert in Electronics

Sumit Kumar




Chitkara College of Applied Engineering
Chitkara University, Punjab Campus
Expert in Factory Automation

Mr. Sagar Juneja




Associate Professor (ECE)
Chitkara University
Electronics Expert and Coordinator (IEDC)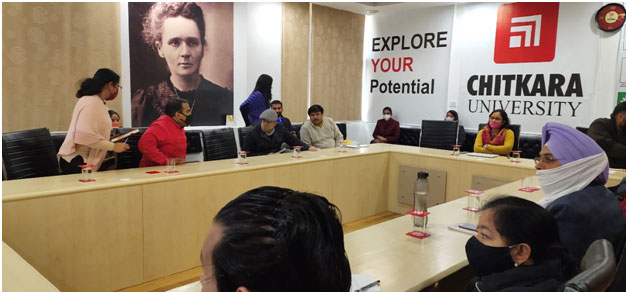 Annual Progress Presentations of NewGen IEDC Projects
During January 28 – 30, 2021, Chitkara University NewGen IEDC conducted annual progress presentations of 18 projects that have received prototyping funding from NewGen IEDC in the year 2020. Student applicants of each of these projects along with t... readmore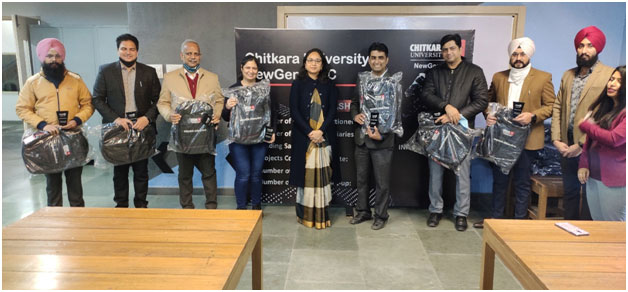 Get-Together Activity with Different Departments
On January 23, 2021, Chitkara University NewGen IEDC conducted a get-together event in order to appreciate the support of all those people from Chitkara University who support day to day activities of NewGen IEDC. These people include faculty members... readmore