5th Edition NOVATE+ 2023

Biggest Confluence of Academia and Industry for Building Market Ready Products

Organized by : Chitkara University

Anchored by : DST sponsored NewGen IEDC and Technology Enabling Centre

Total Funding of


INR 50 Lacs


is up for grabs

Cash Prizes of


INR 5 Lacs

Mentoring
Product Designing Support
Tech-Commercialization Support
Wide Visibility
Walk in with Your Project Pitch and Walk away with Prototype Funding of upto INR 2.5 Lacs
Submit Your Project Entry before May 15, 2023
Fill out the Google Form – https://forms.gle/ib9EX5jjbY2Mcr3d8
Winners of Novate+2023 Click Here
Each winning project may now avail prototype funding of upto INR 2.5 Lacs to develop their project Ideas.
Click here to see the details of the Jury Round that was held on July 21-22.
Video Instructions on Preparing Final Pitch for NOVATE+2023
Background
NOVATE+ is the annual flagship event of Chitkara University, where innovative project ideas are invited, and shortlisted ideas receive prototype funding for their implementations. NOVATE+ 2023 is going to be the 5th edition. The focus is on supporting joint industry-academia projects that will solve the real-world problems, projects that are in-line with the Government of India schemes, projects targeting social and local problems, etc.
Over the years, NOVATE+ has given many significant technologies and products. Details of some of these technologies are available under the Sanctioned Projects tab.
NOVATE+ not only provides funding support to worthy project ideas, but it also provides mentoring, technical support, fabrication support, and helps the teams in building traction for their project ideas.
NOVATE+ is an ideal Launchpad for you, if you are committed to build a top quality project prototype and scale it to a level of a market-ready product.
Theme of NOVATE+ 2023
NOVATE+ always encourages hardware projects that results in tangible prototypes
Joint industry-academia projects, which are inclined toward solving real world problems of industries will be encouraged.
Projects in line with the GoI schemes like Make in India, Svamitva Yojana, Smart Cities Mission, Jal Jeevan Mission, Unnat Jyoti by Affordable LEDs for All, Solar and other Renewable Capacity Building Scheme, etc. will be encouraged.
Projects targeting local issues, social problems, etc. will be encouraged.
Eligibility
NOVATE+ 2023 is open to students, academicians, entrepreneurs, start-ups, and industries from anywhere in India.
Project ideas should be feasible and should have good commercial potential.
Pure academic and research oriented projects will not be supported.
Pure software projects will not be preferred.
Submission Instructions and Review Process
You must clearly and concisely explain the problem statement that you are taking up. Support your problem statement with the facts and references. Be very specific and avoid lengthy details.
You must clearly explain your solution and your methodology of implementation. Share the relevant technical details. Please be aware that based on your answer to this question, reviewers will evaluate your expertise of carrying out the project.
Your project must have a commercial potential, which you must support with facts and references. Be very specific, and avoid lengthy details.
Submit a detailed budget in excel format (headings are given below). Budget must be thoughtfully prepared. This is another important component that reviewers will examine critically while evaluating your project idea.
Here is google form that you must fill to submit your entry in NOVATE+ 2023 – https://forms.gle/ib9EX5jjbY2Mcr3d8
Please stick to the word-limit while filling out the google form.
Submissions due by May 15, 2023.
Project proposals will be reviewed by the experts and shortlisted proposals will be invited for final presentations-round that will be held at Chitkara University, Punjab.
In the presentations-round, you will make a pitch in front of a jury panel, and based on the recommendations of the jury, funding will be awarded.
Budget should contains the following heads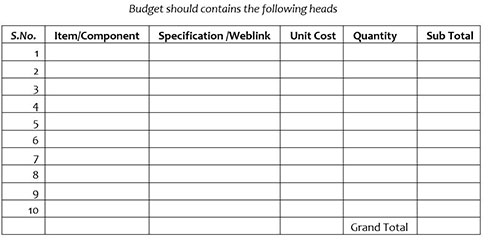 Contacts
Please direct your queries to –
Parul Chawla (Mob. 9877037404, Email – parul.chawla@chitkara.edu.in )
Disclaimer for Industry-Academia Joint Projects
This competition is only providing a platform, wherein industries (Party 1) can look for technical solutions for their real-world problems by collaborating with students and academicians from universities and colleges (Party 2). In addition, this competition is also providing financial aid for building the proposed technical solutions.
This competition or its organizers will not play a mediator role for technology transfer between the two parties.
This competition or its organizers will not influence or make suggestions regarding the terms of engagement between the two parties.
This competition or its organizers will not be responsible for resolving any dispute (legal, IP or any other) between the two parties.
It should be noted that once the funding is approved, NOVATE+ 2023 will make all the payments directly to the vendors for the procurement of various goods and services as will be approved in the budget. In some rare cases, payment can be made to the team lead (applicant from Party 2) for the procurement of various goods and services from the approved budget. Payment will not be made from this funding to Party 1 under any circumstances.