Chitkara University NewGen IEDC Participated in 'Punjab Innovation and Technology Summit' held on November 5, 2019
In order to give a push to the culture of research and innovation in the state of Punjab for the social & economic development of the state, 'Punjab Innovation and Technology Summit' was organized in The Lalit Hotel Chandigarh on November 5, 2019. Mr. Manpreet Singh Badal, honorable Finance Minister of Punjab was Chief Guest of the summit that was attended by top academic institutions of Punjab, leading industry organizations and associations of the state that are focusing on technology as well as by many entrepreneurs and start-ups. Chitkara University is one of the proud partners to this initiative of Innovate Punjab and a team from our university headed by Dr. Madhu Chitkara – Vice Chancellor, Chitkara University, Punjab participated in the event. Participants from our university were Dr. Archana Mantri (Pro-VC, CURIN), Dr. Sumeer Walia (Director, CEED), Dr. S.N. Panda (Director, CURIN), Dr. Sachin Ahuja, Dr. Nitin Saluja, Dr. Vinay Kukreja, Dr. Virender Kadyan, Mr. Varinder Singh and Mr. Sagar Juneja.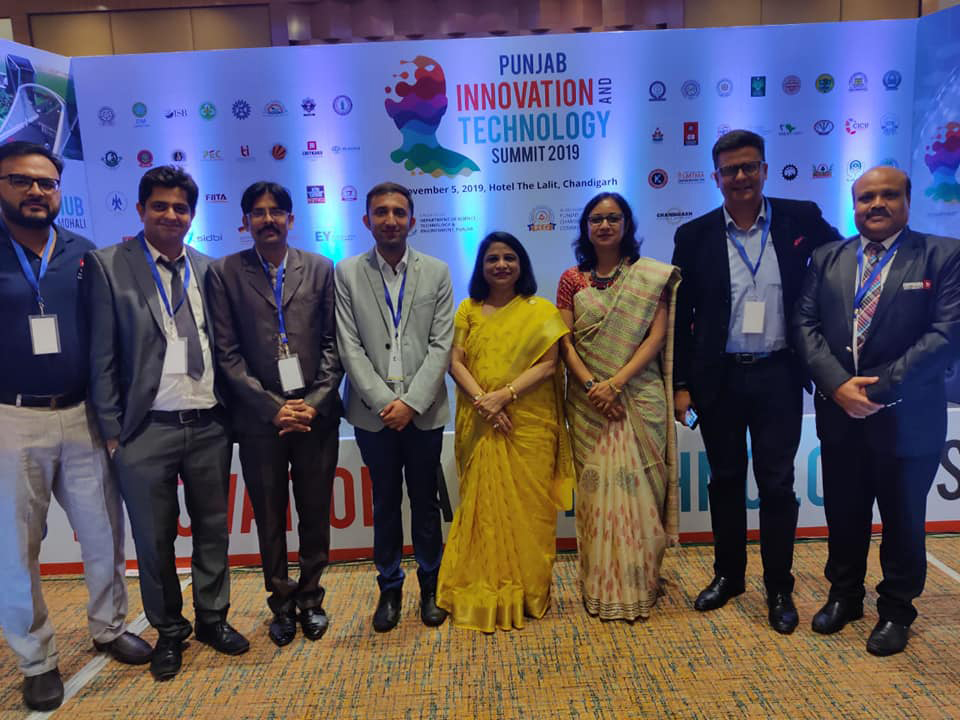 Summit featured 9 sessions and panel discussions on topic like industry-academia collaboration, global opportunities for collaboration, funding opportunities, session for start-ups, session for MSMEs etc. The summit also featured an exhibition where many academic institutions, industry representative and start-ups showcased their activities, projects and innovations.
Chitkara University NewGen IEDC had also put-up an exhibit where we showcased our activities and some of the projects that have come out of this center. We also announced NewGen IEDC 'HandShake Program' and invited start-ups & academic institutions in the region to use Chitkara University NewGen IEDC facility for building their projects and proof of concepts.
A project from Chitkara University NewGen IEDC titled Briltab Edukit won first prize in the Business Pitch Competition that was organized on the sidelines of the event. Dr. Virender Kadyan presented this business pitch and won the prize.
The summit was concluded in a valedictory function during which Dr. Rakesh Kumar Verma – Principal Secretary, Department of Science, Technology and Environment Punjab presented mementos to the partner institutions. Dr. Madhu Chitkara received the memento on behalf of Chitkara University.